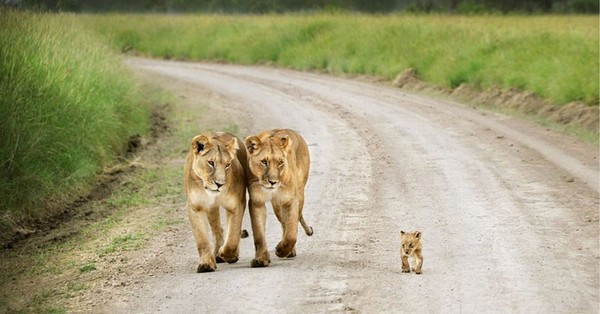 Strong wins, weak loses" is an inevitable law in nature, life and even the most ferocious predators must follow.
Among carnivores, perhaps the big cat relatives are predators that are both attractive and powerful.
The group of big cats consists of 5 members, ranked by size and body weight, respectively: tigers, lions, jaguars, leopards and snow leopards.
In particular, the lion and leopard are two large mammals that dominate the African grassl ands. Although they are related, these two "big cats" have never gotten along. Even the leopard has a grudge with the lion, because it is often suppressed or robbed of the spoils that it has worked so hard to earn.
In general comparison, leopards have never been seen as rivals by lions, except in direct competition for food.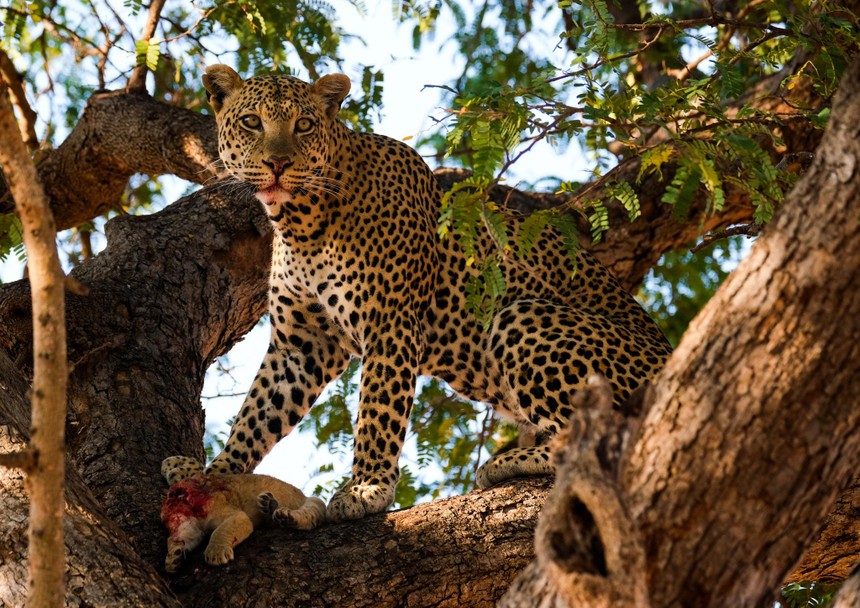 The residence of the lion family.
Leopards are quite modest in size, about 2 m long and weigh from 30 – 90 kg when mature, but are famous for their unique camouflage skills, toughness and ability to climb. In contrast to them, lions have twice the weight, and also hunt in large herds, so it is completely outnumbered by leopards.
Therefore, when encountering a dispute, leopards often choose to flee to preserve their lives. Holding a grudge in his heart for a long time, when given the opportunity, leopards will not hesitate to punish the lion with painful blows, like in the story below.
The story was filmed by tourist Scott Hyman during a tour at Ruaha National Park, the largest in Tanzanica.
During his journey to discover the wild nature here, the Canadian lawyer happened to come across an adult leopard hunting, so he decided to follow the animal.
After more than an hour of chasing, the leopard suddenly stopped and looked pensive, waiting for something. It turned out that nearby a family of lions including the mother lion and her cubs were looking for a place to stay. It didn't take long for the mother lion to take her cubs into the nearby bush to rest.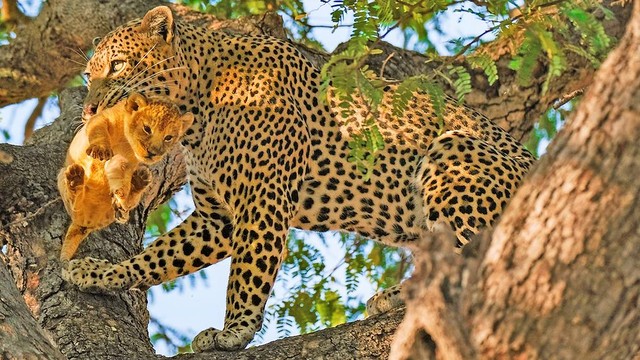 The poor lion cub was carried up a tree by a leopard before being eaten.
The leopard patiently lay still in a corner waiting for an opportunity. When the mother lion left her hiding place, she rushed straight into the bushes and rushed out with a small lion in her mouth.
As a precaution, the leopard then carried the cub up the tree and then began to eat.