The soccer player recently moved with his family of five to Miami, Florida
Last week, the soccer star, 36, shared two sweet family photos on his Instagram with his wife and three kids as they sat poolside. Messi held son Ciro, 5, while his other two sons, Mateo, 7, and Thiago, 10, sat next to him.
 Lionel Messi's 3 Kids: Everything to Know
On the other side of Thiago, Messi's wife Antonella Roccuzzo sat next to her son and held his hand.
In another photo, Messi and Antonella pose next to each other in the ocean with a beautiful backdrop.
Lionel Messi Spotted Grocery Shopping at Florida Publix Before Making MLS Debut with Inter Miami
Messi and his family recently moved to Miami, Florida as the soccer star is set to join Miami in the U.S.-based Major League Soccer league. The Argentinian-born forward's signing is one of the biggest in the league's history.
In December, Messi and his family celebrated a special Christmas after he won the World Cup only a month earlier.
"Feliz Navidad," his wife Antonella, 35, captioned a family photo next to their silvery Christmas tree, sharing another snap of the whole brood to her Instagram Story.
After his big win, two of Messi's sons joined him on the field, sharing a big hug with their dad.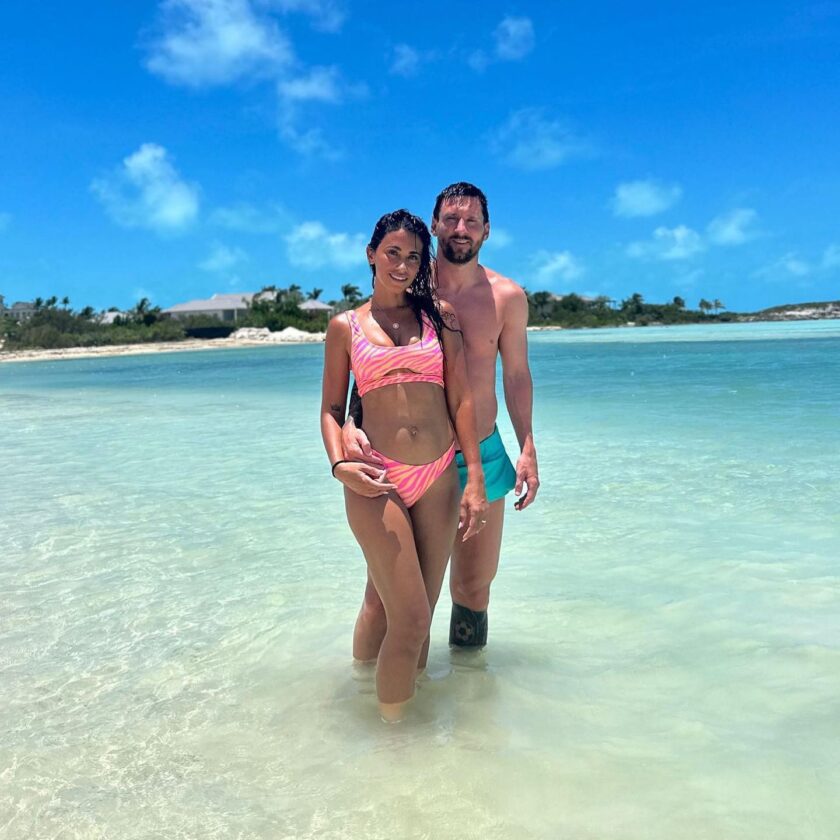 The sweet moment was captured on camera, with Messi on his knees enthusiastically embracing his sons with a big smile on his face. The boys wrapped their arms around him while wearing purple jerseys with their father's name and number (10) on the back.
Ahead of the game, Messi's son Thiago wrote down the lyrics to the song "Muchachos Ahora Nos Volvimos a Ilusionar" to show support for his father, which his mother shared on her Instagram Story, according to The Indian Express and Daily Mail.
After he won, Roccuzzo shared several photos of the family celebrating. "I don't even know how to start," she wrote in the gallery caption. "What a great pride we feel for you @leomessi"
"Thank you for teaching us to never give up, that we have to fight it until the end IT WAS FINALLY DONE YOU ARE A WORLD CHAMPION, we know what you suffered for so many years, what you wanted to achieve this!!!"
The professional soccer star and Roccuzzo met as kids and although Messi eventually moved away from Argentina to train in his sport, the two reconnected over a tragedy and eventually fell in love.