Remarkable photos show a fierce 40-minute wrestling match between the giant anaconda and the swamp crocodile.
Wildlife photographer Kim Sullivan from Indiana, USA captured an extremely rare battle in the wild between a giant anoconda and a swamp alligator in Brazil.
The python used its large body, wrapped around its body, squeezing the crocodile's neck in a dramatic fight that lasted about 40 minutes on the banks of the Cuiaba River. The ferocious crocodile, known as the swamp king, seems powerless against the power of the giant python.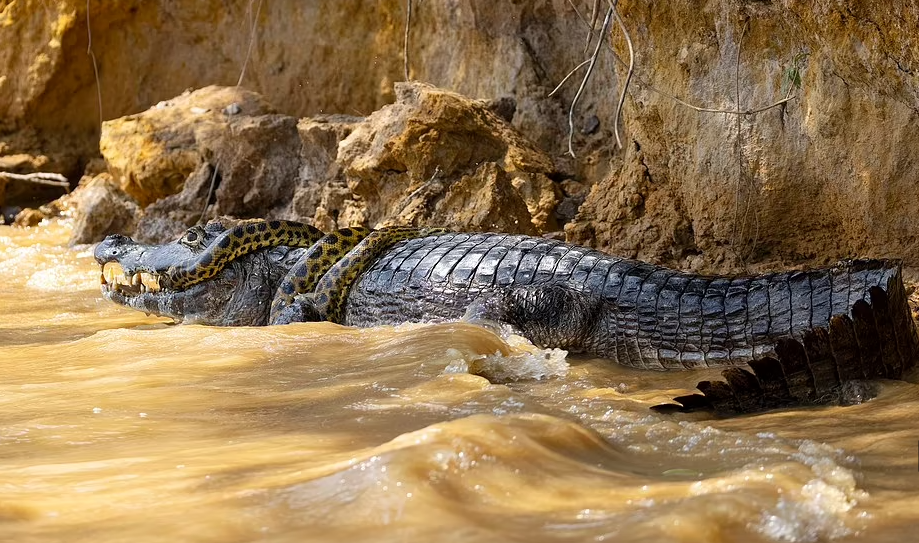 The python tightens around the crocodile's neck
It desperately tries to escape the python's clinging. The more the crocodile moved to get out, the tighter the python tightened. It then managed to bite hard with its teeth on the attacker's bulky body.
The brutal war ended with a draw after the tireless efforts of the swamp king.
Wildlife photographer Kim Sullivan said: "The alligator got into the water. I could see the tip of the python's nose struggling for air. The crocodile tried to get out but was still caught. The python's grip grew tighter and tighter. It finally broke free from the giant python's grasp. , slide back to its nest".
Crocodile retaliates by biting python's body
The photographer captured the battle of two large species in the wild while sailing along the riverbank in search of jaguars. Kim Sullivan said this is the first time in her life she has witnessed firsthand the hunting of these two ferocious species.
Kim Sullivan said: "I wonder how and why the crocodile got into such a predicament because normally pythons take a long time to trap and entrap their prey, acting on It's a rare fight, it ended in a draw, no one was killed."