Beyond his debut with Inter Milan, Juan Guillermo Cuadrado had the opportunity to meet up with his old Juventus teammate, Cristiano Ronaldo.
This Thursday was a special day for Juan Guillermo Cuadrado, since he had the opportunity to make his debut for Inter Milan in a preparatory match against Cristiano Ronaldo's Al-Nassr, in one of the two matches on the tour of Japan. Although he started on the substitute bench, the Colombian soccer player entered in the second half and had an outstanding performance.
.
.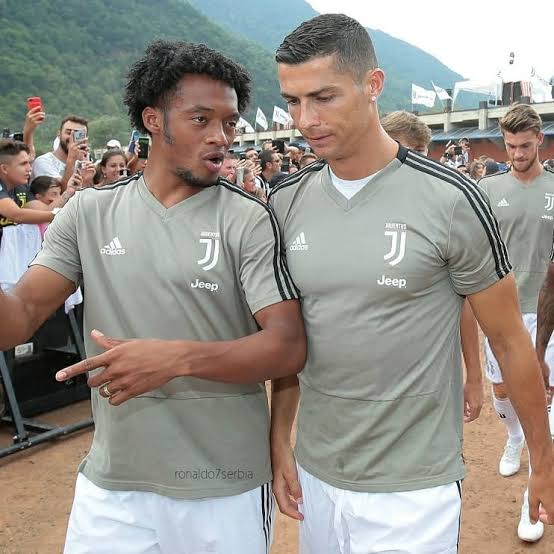 .
The long-awaited meeting took place in Osaka and it was a special occasion for the 'Panita', who recently joined the 'neroazzurro' team after his successful spell at Juventus. The warm-up match against the Arab squad represented the first opportunity for the talented Colombian player to show his ability and versatility on the pitch with his new team.
During his time on the field, the Necoclí native did not disappoint the fans and demonstrated why he is considered one of the best Colombian players today. He showed his quality in handling the ball, achieving 86% accuracy in his passes, and stood out for his active participation in the game. He made four crosses and five long balls, as well as a key pass and also created a scoring opportunity for his team.
Beyond his performance on the field, Juan Guillermo Cuadrado's debut was significant because it gave him the opportunity to meet his old teammate at Juventus, Cristiano Ronaldo. Both footballers shared four seasons in the Italian team, being undisputed starters under the direction of various coaches, such as Maurizio Sarri, Andrea Pirlo and Massimiliano Allegri.
It should be noted that together they achieved great successes for Juventus, including Serie A titles and outstanding appearances in the Champions League.
To commemorate the moment, Juan Guillermo Cuadrado shared a photo on social networks of him with Cristiano Ronaldo, also highlighting his debut with Inter Milan. This preparation meeting allowed both players to relive old memories and once again share their passion for football. Cuadrado expressed his joy and gratitude for the opportunity to face his friend and former partner again.
"First minutes with Inter Milan, good feelings, we continue preparing to be 100. What a joy to see you panita, 'el Bicho', Cristiano Ronaldo, blessings," said the Colombian soccer player.
Let's remember that in their time together at Juventus, Cristiano Ronaldo scored 101 goals with the 'vecchia signora', six of which were assisted by Juan Guillermo Cuadrado.