Few people expect that midfielder Kevin De Bruyne once was bitterly "horned" by his teammate Thibaut Courtois.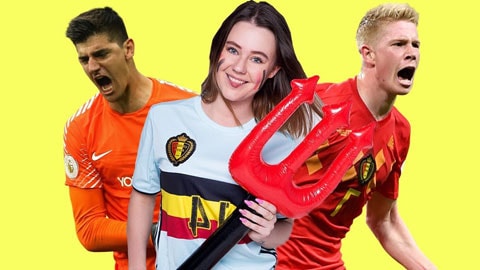 Midfielder Kevin Bruyne is playing very well under the shirt of Man City club. Recently, in the match of round 6 of the English Premier League, De Bruyne scored 1 goal, contributed 2 assists to help the Etihad team defeat Watford with a bold score of 8-0. De Bruyne personally has now risen to become the king of assists in Europe with 7 times to help his teammates score goals.
However, in the past, De Bruyne once tasted the bitterness of love when his partner Thibaut Courtois in Belgium robbed his lover.
In 2014, De Bruyne openly shared in an autobiography that Caroline Lijnen had betrayed him to run after goalkeeper Courtois. Even the Man City club midfielder spent an entire chapter telling about how painful it was to be cuckolded.
The incident took a lot of ink from the Belgian press. In addition, the relationship between De Bruyne and Courtois is not as good as before. After the autobiography was published, the girl Caroline Lijnen made a statement all over the newspapers. She accused De Bruyne of being the first lover.
"In the summer of 2012, Kevin confessed to me that he had an affair with my best friend. I gave him the choice of either her or me. I'm willing to forgive and give Kevin another chance, but our relationship can't be back to normal.
Then I went to Madrid. At this point Kevin also thinks this is a good trip for me. I asked Kevin first but then things happened that I thought shouldn't have happened.
That night, Thibaut made me feel like I've never felt in my 3 years with Kevin. With Thibaut, I could easily confide everything, he even prepared me a hearty meal, something Kevin had never done before.
I wonder, Kevin betrayed me first, why can't I do the same?" , Caroline explained. In addition, the WAGs also said that De Bruyne behaved inappropriately in this case
.
However, things calmed down after that. De Bruyne himself also found new happiness with his current wife, Michele Lacroix. The couple got married in 2017. At the moment, the De Bruyne family is very happy.