The older, the more "mature" in talent, is a treasure that is treasured by the football world every moment, but Luka Modric has not been extended his contract by Real Madrid.
Recently, the Athletic newspaper used an interesting comparison when comparing Luka Modric with the main character in the famous movie "The curios case of Benjamin Button". The classic work associated with the actor Brad Pitt's name tells about the life of a mutant living against his age, a boy whose biological cycle is contrary to normal, the younger he grows up.
Modric was somewhat like that, with his peaks coming in the second half of his career.
From the beginning at the Bernabéu
Only two days! Perhaps it was a clear sign that Luka Modric was destined for success at Real Madrid, as his first trophy in the Spanish capital came just two days after he arrived from Tottenham Hotspur.
It was the second leg of the Spanish Super Cup match against Barcelona on August 29, 2012, where Modric was brought on for the final 10 minutes. Real won the cup soon after thanks to the away goals rule. The post-match photo shows the Croatian midfielder kneeling at the edge of the group, smiling shyly and being celebrated by Cristiano Ronaldo.
Only three players from the photo 11 years ago remain at the club: Modric, Benzema and Nacho Fernandez. All three contracts expire on June 30, and their futures are uncertain, albeit to varying degrees.
Back to the mentioned Super Cup night, Modric debuted his new team that day with the number 19 shirt on his back. He quit training at Spurs and turned down a tour in the US to promote a move to Real Madrid for a fee of 30 million euros plus 5 million bonus clauses.
"I was a bit nervous when I first got on the field, but that feeling was over as soon as I touched the ball ," Modric said of the victory that day.
Since then, 469 appearances for Los Blancos have named Modric, with 37 goals and 22 titles with the Spanish giants to date.
It is worth mentioning that at the present age of 37, on the occasion of Real's rematch with the great rival in the semi-final second leg of the King's Cup, Modric has not shown any signs of slowing down.
Just recently, he played an important role in the 5-2 upstream victory over Liverpool in the first leg of the 1/8 Champions League round of 16 more than a week ago. That confrontation ended with Modric bravely running past Fabinho and past 18-year-old Stefan Bajcetic to spark the scoring goal.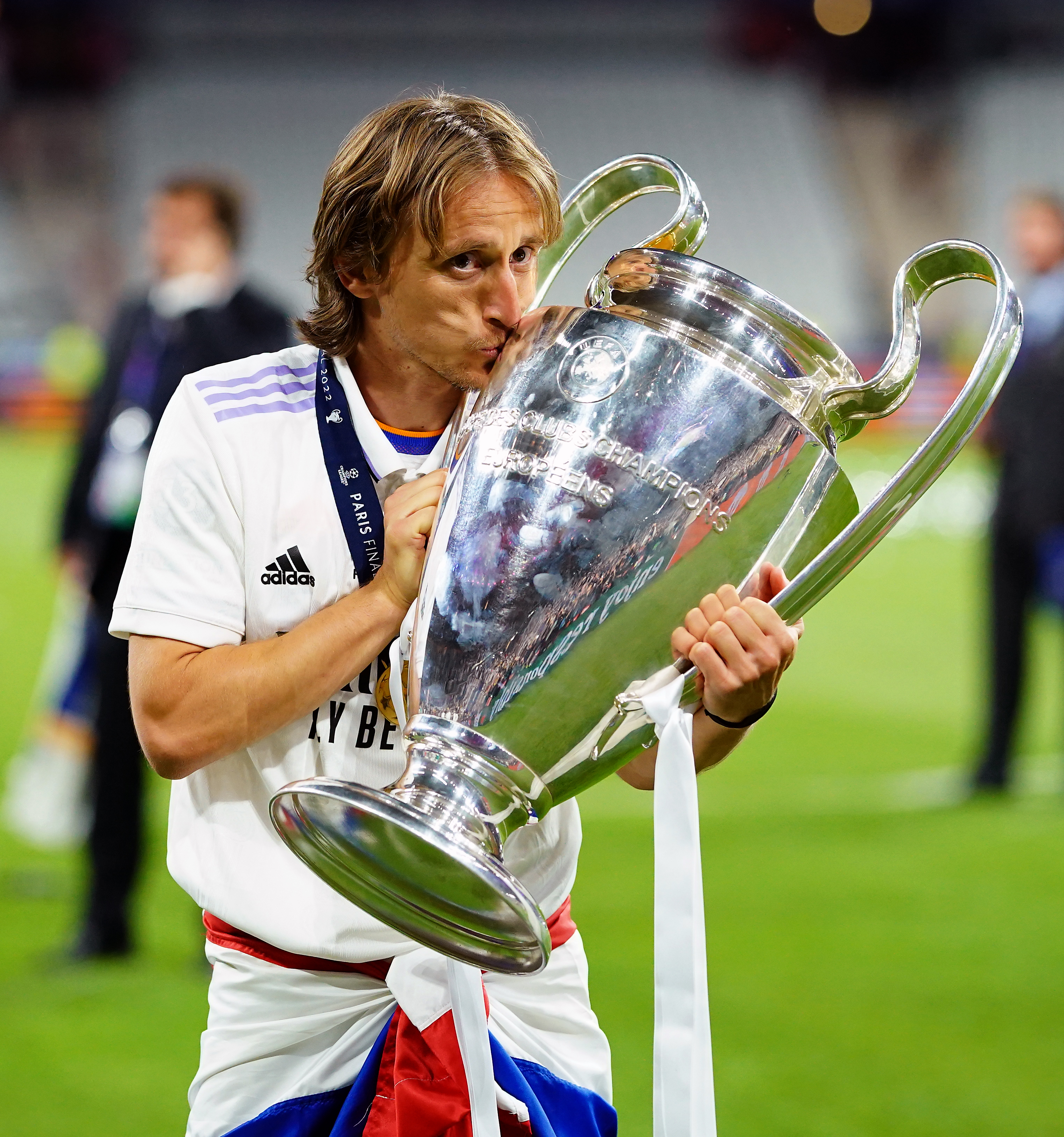 Modric's secret to "longevity"
Those close to him insist he has no special secrets behind his age-defying performances.
Despite owning a private gym at home, Modric doesn't hire any experts to take care of his off-court routine. He also doesn't have a particularly strict diet or sleep in any special type of bed.
Instead, Modric is simply the epitome of professionalism. He was always one of the first players to arrive at Madrid's Valdebebas training ground and eat breakfast there. The early arrival helped him to be taken care of by the club's physiotherapist from the dew; and then, Modric gave his all in training sessions where people he met every day said he was amazingly competitive and often even got mad when his team couldn't win the intramural game.
Not only was he early, but Modric was also one of the last to leave Valdebebas because he often stayed at the gym and again, met with physiotherapists for support in recovery and injury prevention.
The Real Madrid board and coaching staff appreciate Modric's dedication. Despite getting used to the Croatian's many excellent seasons, they were still impressed by his hard work even after he won everything, including the Ballon d'Or and The Best of 2018. It was the year. Modric was a great inspiration to bring Real to another Champions League title and especially to lead Croatia all the way to the World Cup final.
Last week, Modric was named in the world's best team of the FIFPro World XI for the sixth time thanks to his role in Real's La Liga and Champions League double last season as well as helping Croatia reach the semi-finals of the World Cup in Qatar. .
When he returned to his hometown, Modric had a simple family life with his wife and children. He often picks up his children from school and takes the time to play with them. " It's a success achieved by being normal and doing things in the most natural, kindest way ," said one of Modric's best friends, who spoke anonymously to The Athletic.
Head coach Carlo Ancelotti is also obviously delighted to have Modric in his squad for both terms at the Bernabeu. Modric had the seventh most minutes played on the team last season (3,435), scoring three and assisting 12 goals in 45 games in all competitions. He continues to be a mainstay in the campaign this season despite being 37 years old, playing the 10th most minutes for the team (2,101 minutes), scoring 6 and assisting 5 goals in 33 games.
Modric came on as a 63-minute substitute against Atletico Madrid last week and poured the perfect corner for youngster Alvaro Rodriguez to save a point in the 85th minute. That moment came right after his superb display first. Liverpool, where Modric was substituted near the end of the game to applause from the opposing audience.
Overall, Modric has really regained his form after a short period of decline after the 2022 World Cup, where he led Croatia to 3rd place. That is what the midfielder admitted before the match against Liverpool.
"After the World Cup I made the mistake of going back to the field immediately instead of making a specific plan and coming back slowly," said Modric, who played against Real Valladolid just 13 days after the win. Morocco in the World Cup 3rd place match, revealed. "The intensity has affected me a little bit, but now I'm feeling it again and want to keep playing like this for the rest of the season."
Indeed, Modric's style of play does not seem to have changed even though he has reached the age of a general.
He has been impressive for Real Madrid, as shown by The Athletic's graphic of touches in La Liga this season. While midfielders are often expected to touch the ball mostly in the midfield, Modric's coverage is very wide.
Modric's role has remained largely unchanged since the 2017-18 season. Some aspects of his gameplay have even improved, as illustrated by smartscout.
xGoal (contribution to expected goal, 81 out of 99) and ball progression (a metric that determines how many meters a player is moving the ball forward, 62 out of 99) remain as high as before This.
Similarly, Modric's ability to pass and hold the ball has remained remarkably consistent over the past six seasons, showing how he executes neat, orderly passes to nearby teammates and rarely lets his teammates down. take over control.
Although his off-ball efficiency has dwindled a bit in recent years, Modric has consistently stayed close to his opponents for defensive intensity and frequently prevented the opposition from getting on the ball. defense impact).
One more strange thing
So with all of that, why hasn't Modric's contract been renewed yet?
The simple answer is that Real Madrid has not approached him on the matter. The club are said to be reluctant to discuss contracts while fighting for titles on multiple fronts.
But it is worth mentioning that Benzema, Toni Kroos or Nacho, whose contracts are also out this summer, all know they will soon have the option to extend if the good faith agrees. Corridor information also reveals negotiations with representatives of Marco Asensio and Dani Ceballos. Modric is not like that. There is no sign that Real wants to continue to stick with him.
This is a familiar situation to Modric as it happened last year, when a 12-month contract extension was not completed until May 2022.
This time, if he does not re-sign with Real Madrid, the most likely option for Modric is probably moving to the Saudi Arabian league. He has received lucrative offers from those rich clubs.
However, Modric had this to say before the match against Liverpool: "I feel good and want to stay at Real Madrid. But I have to talk to the club's board, see what they think and then we'll find out."
"I want to stay because I deserve it, not that they give it to me. I've never been given anything for free in my life and neither will this time. But whatever happens, nothing. could change my relationship with Real Madrid. This is the club of my life."
Coach Ancelotti has made this clear, something that he thinks players like Modric should do, or be done: "The legends of Real Madrid must retire here, at this very club."
But that has yet to be decided in the case of Luka Modric.