---
Not just any defender, the only person who has accompanied Lionel Messi since he joined Inter Miami is the personal bodyguard hired by the American club.
When Lionel Messi caused a fever in the US, his bodyguard also received special attention from fans. The image of a muscular guy named Yassine Cheuko following Messi like a shadow was recorded by fans and shared a lot on social networks.
In the recent match between Los Angeles FC and Inter Miami, an audience rushed into the field to approach the Argentine superstar. Immediately, a bodyguard with a legal body rushed into the field to prevent and "carry" this extreme fan out.
Cheuko is an Inter Miami bodyguard hired exclusively for Messi – a privilege that only the Argentine superstar enjoys in this team. Cheuko is paid 3 million euros / year, which is several times higher than the average salary of players in the US professional league MLS. The team with the highest player salary in this tournament is Toronto FC (average nearly 1 million USD/year per player).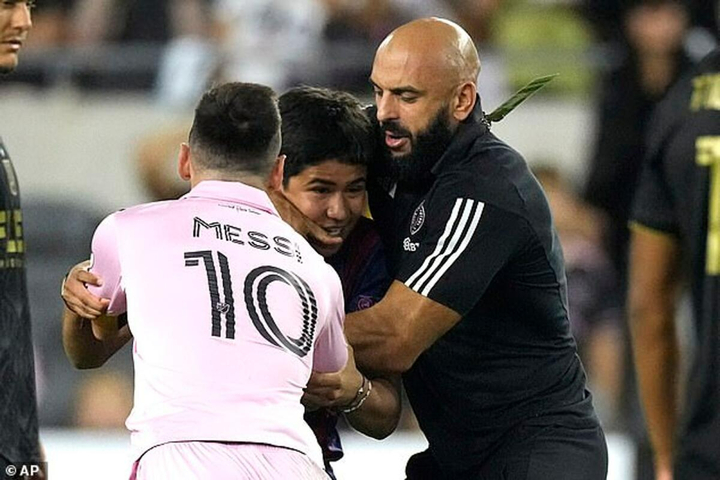 Bodyguards prevent fans from approaching Messi. (Photo: AP)
On match day, bodyguards follow Messi from the moment he gets off the bus, goes through the tunnel and stays on duty outside the sideline during the match. In principle, Cheuko is only separated from Messi when this player is on the field. However, Cheuko will rush onto the field as soon as he determines "there is a problem", like the case in the match against Los Angeles FC.
Yassine Cheuko was introduced as a US Navy soldier. However, this is unconfirmed information. The Daily Mail recently found out and confirmed that he had never worked in the military.
What is certain about Cheuko is that he has a muscular build, enough to give a sense of security to the person being protected. In addition, Messi's bodyguard is also an expert in mixed martial arts (MMA), with skills in taekwondo, real combat boxing.
In addition to ensuring security on match days, Cheuko and 50 other people were hired to monitor and ensure the safety of Messi's family in Miami.
Since David Beckham – also co-owner of Inter Miami – came to America in 2007, this is the first time American football has had a player so strictly protected. Jorge Mas, president of Inter Miami, said: " Security has been significantly increased. The players will be escorted into the field through a tunnel. All of that is prepared for both home and field. guest.
This was done when I watched Messi and the Argentina team prepare for the 2022 World Cup. They trained in Miami before flying to Doha (Qatar). We saw the crowds going crazy for him during practice. So we have to prepare very carefully ."
Volume 90%
Messi's bodyguard prevents fans from approaching the superstar.
Since coming to the US to play, Messi has created a huge fever. Inter Miami's matches at home or away attract spectators. Ticket prices for the match between Los Angeles FC and Inter Miami set a record of nearly $800 a ticket.
NBC Los Angeles revealed Messi's impact on internet searches. According to Google Trends, the keywords "MLS", Messi", "Inter Miami" increased by 322% since he debuted in the tournament, reaching an all-time record high.
Messi signed a two-and-a-half year contract with Inter Miami, with a salary of $50-60 million a year. In addition, this player receives many accompanying incentives. Messi immediately made a mark when helping Inter Miami win the Leagues Cup. He scored in all 7 matches and won the top scorer title.
Recently, Messi shined helping Inter Miami reach the US Open Cup final. Fans of this team hope the Argentine star will help the team achieve better results in MLS. Currently, David Beckham's club is at the penultimate position.