The endless competition between Lionel Messi and Cristiano Ronaldo will never come to an end. But it is necessary to make one thing clear, that there is no animosity between the two. And in the long battle to reach the top, they are happy to have each other
Lionel Messi and Cristiano Ronaldo, two living legends, icons of the times and great rivals, sat side by side in the Grimaldi Forum auditorium.
There, Messi almost laughed the whole time. And Ronaldo, freely talking about his relationship with Messi, that together, the two have shared 15 wonderful years and every time, one becomes the driving force behind the other moving forward. Finally, hopefully one day soon, they can sit together again and share dinner.
In an instant, all competition, hatred, and resentment disappeared. 15 years have passed like a wind so that the era of confrontation between Messi – Ronaldo is gradually receding into the past, making room for the next generation. And the two of them were able to sit down together, like two friends.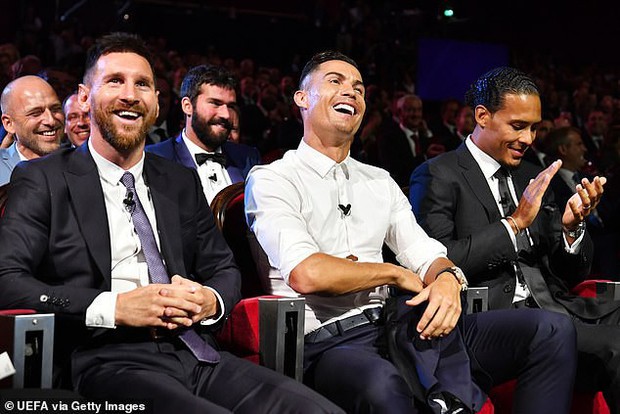 In the world of football there is no shortage of legends, some with long brilliant careers, some stopping at the top for a moment. Only, Pele, Diego Maradona, Johan Cruyff or Garrincha, Puskas, Di Stefano or Zinedine Zidane, Ronaldinho did not create a competitive relationship on the same stage for long.
For those who have lived in the period from the mid-2000s to the present, God has given them an unprecedented privilege to enjoy the best of football through the Messi – Ronaldo competition.
Today Messi creates a masterpiece, tomorrow Ronaldo responds with another masterpiece; if Ronaldo scores a hat-trick, Messi answers with a poker; Messi won the treble, or ate 6, Ronaldo boasted 3 consecutive Champions League titles; Ronaldo has the Ballon d'Or, the Golden Shoe, and Messi also displays awards with equal numbers.
Just like that, if the fans thought that Messi was already great, the next day, they realized that Ronaldo was even greater. And vice versa, when Ronaldo created a miracle, very quickly, Messi also set another incredible feat.
All make the debate about who is better, Messi or Ronaldo, become endless. There will never be an exact answer, as the two constantly push boundaries and raise already towering standards.
In the history of sport there is no shortage of competitive Messi-Ronaldo relationships. Tennis has Roger Federer and Rafael Nadal, on the Formula 1 track are Ayrton Senna and Alian Prost, boxing is Muhammad Ali and Joe Frazier, or athletics has Usain Bolt and Yohan Blake.
But do they hate each other? The answer is no.
Prost was the coffin bearer at Senna's funeral, then never celebrated his death anniversary, Frazier once lent Ali money to pursue a legal battle against the government, and Blake used to stand in front of the Bolts in the morning and shout, "Get up and train Usain, because it's the Olympic year."
As for Federer and Nadal, there is nothing but admiration, respect and gratitude. As Federer once shared, "Nadal is the biggest inspiration" for him to improve, and "without Nadal, there is no Federer". As for Nadal, he said that "those who say Nadal is better than Federer know nothing about tennis".
There may be a bit of jealousy and rivalry, but that's the pure nature of sports, there must be competition to be better, and to win more meaningfully. Especially when the two constantly clashed in Spain, representing the two arch-rivals Barca and Real, and at the same time becoming instrumental in the uncompromising confrontation between Pep Guardiola and Jose Mourinho. Even if they don't hate each other, the two clubs, fans and media create it.
For example, journalist Diego Torres, in his book Preparense para perder, revealed the fear of President Florentino Perez about Ronaldo's move to Barca. During the Ballon d'Or award ceremony in early 2013, when Messi was giving an interview, Ronaldo entered the hall. Messi immediately called Ronaldo over and the two hugged each other like two long-time friends (this detail is similar to 2015, when Ronaldo was the interpreter for Messi and Neymar because neither of them spoke English, then joked that he needed to be paid).
Perez witnessed it all in anguish. And he would be happier if they were separated by the hatred painted by the press. He also enjoys the jokes in the Real dressing room, as journalist Guillem Balague reveals, that Messi is a puppet stuffed in Ronaldo's bag.
In fact, based on the assertions of many people close to Messi and Ronaldo, the animosity between them does not exist. Both are typical of turning opponents into motivation, or reminders to push yourself and slow down the aging process. To still be able to score 40-50 goals a season and continue to reap the glory even after being over 30.
Now that Messi and Ronaldo are no longer in an environment that is thick with the smell of gunpowder (La Liga), and watching 3rd people enter the competition, taking away prestigious awards, they can look back on the past 15 years with contentment.
Then feel happy because you have each other. A beautiful love, between hatreds.