TPO – Tyrannosaurus Rex is a genus of theropod dinosaur that lived in the late Cretaceous period – 145-66 million years ago. Notably, this genus includes only one species, Tyrannosaurus rex, often shortened to T. rex.
1. Tyrannosaurus Rex is a very regal name. The person responsible for naming the tyrannosaur was Henry Fairfield Osborn – President of the American Museum of Natural History at the time of the discovery and identification of this dinosaur in 1905. In Greek, "tyrannos" means "tyrannos". meaning "tyrant", "sauros" meaning lizard and the Latin word "Rex" meaning King. If the full name is put together, it is "The Tyrant Lizard King".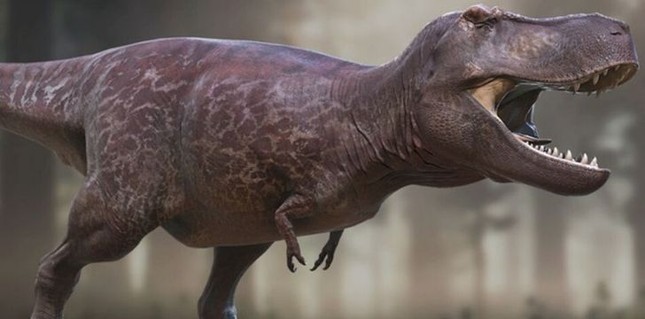 2. Tyrannosaurus has 2 forelimbs so small it's hard to believe. While the body is up to 4m high, 12.3m long and weighs about 7 tons, the forelimbs of Tyrannosaurus rex are only 1m long. This makes it extremely small in front of its huge body.
3. Scientists did not find out the true effect of the forelegs. So far, scientists have not been able to figure out the effect of the two small forelimbs of tyrannosaurs. Therefore, there are many theories that this is just a flaw left in the process of evolution or maybe just used to hold prey when Tyrannosaurus rex attacked.
4. Tyrannosaurus has the scariest bite in the dinosaur world. With a jaw length of about 1.2m containing 60 teeth longer than 30.5cm and a bite force of up to 57,000 N, the tyrannosaurus was capable of killing any animal.
5. Tyrannosaurus has very little feathers. A 2017 study found that tyrannosaurs had only a few hairs running down their backs and necks.
6. It is a "garbage picker". Although tyrannosaurs are known to be one of the most feared predators, they also ate scavengers. A 2013 study showed that Tyrannosaurus Rex ate the bones of dead dinosaurs.
7. Has a rather short lifespan. From the data collected from T-Rex fossils, scientists have determined that Tyrannosaurus has a lifespan of only about 30 years. Meanwhile, other 4-legged dinosaurs can live up to 100 years.
8. Tyrannosaurs can smell from a great distance. The T-Rex's sense of smell is very well developed thanks to its large olfactory nerves. They can even smell food from a distance of 1 mile, or 1.6km.
9. Tyrannosaurus runs very slowly. A study has shown that the tyrannosaur had a running speed of only about 27km/h. However, many scientists disagree with this issue when asserting, their real speed can be up to 70km / h.
10. Tyrannosaurus is one of the last terrestrial dinosaurs. Tyrannosaurs appeared about 68 million years ago and only lived for a short time before the Late Cretaceous Extinction event occurred.