Headbutting the opponent's face, chopping and slashing the opponent's leg, ready to fight, fall over like Chi Pheo, and a collection of red cards … are the luggage of the Portuguese butcher Pepe. , who is considered the ugliest player of all time. Well, he just played in a friendly match against AS Roma recently.
The footage of Pepe's life on the pitch includes enough brutality to produce achievements. So, no one is surprised to see the Porto midfielder back down to make the opponent suffer on the pitch. The latest victim is Roma   winger Henrik Mkhitaryan .
Not only that, Pepe also caused a scuffle in the crowd when angry Mkhitaryan teammates rushed to attack him. Somehow, Pepe went unpunished, while Mkhitaryan was shown a yellow card by the referee for his reaction. Pepe has a long list of victims, of which Lionel Messi is a favorite target.
Now, let's take a look back at some of the most blatant, embarrassing, and simply iconic moments of Pepe's ability to trample law and morality.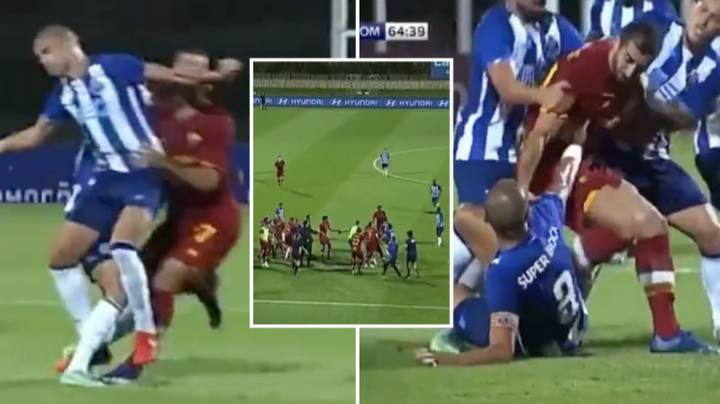 Even Casillas should be ashamed
At Real Madrid, Pepe was a bully in the dressing room by powerful teammates. It's a recipe for chaos. Certainly the centre-back's most intense outburst came in a game that left Pepe himself disillusioned and thinking about retiring.
It was in April 2009 at the Bernabeu, Getafe held Real Madrid with a score of 2-2 until the last moment. Then Javi Casquero overcame Pepe and had a one-on-one situation with goalkeeper Iker Casillas. Running out of opportunities to block, Pepe immediately reached out and pushed the Spaniard to the ground.
The whistle blew, a penalty was awarded and Pepe knew he would not be forgiven. In a fit of rage, Pepe hurled two rough kicks at Casquero, sending the studs under the soles of his boots tore through the Getafe captain's back on the second foul.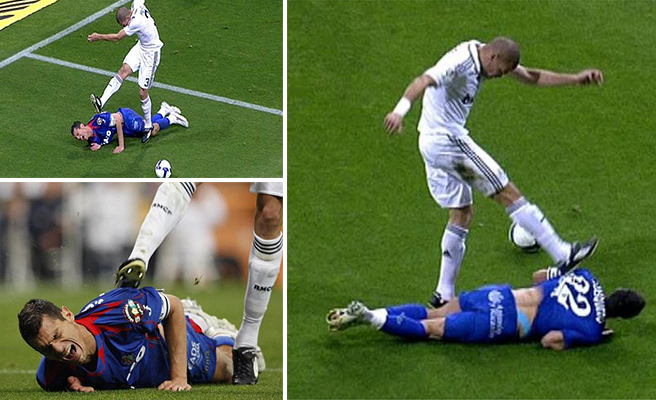 Pepe kicks Casquero on the back Casillas, who then successfully saved the penalty that helped Real Madrid win 3-2, had to escort his frantic teammate towards the tunnel before Pepe could do anything wrong. the next bad thing to the victim. Casillas felt extremely humiliated by Pepe's behavior.
Pepe was later punished with a well-deserved 10-match ban and forced to issue an apology. He even thought about retiring. But unfortunately for everyone, with the exception of Real Madrid and Portugal, Pepe chose to continue playing football.
Disgrace at the 2014 World Cup
Even while the world was watching, Pepe easily had a moment of madness in the eyes of the referee. The centre-back sparked Portugal's worst ever World Cup defeat by losing 4-0 to Germany, starting a miserable tournament for Cristiano Ronaldo and his teammates.
In the 37th minute of the match, Germany temporarily led 1-0 thanks to a penalty kick by Thomas Muller. At that time, Pepe was under pressure from Germany's attack on the Portuguese field. Pepe tried to manage but couldn't stop Thomas Mueller. Immediately, Pepe dealt a blow to Mueller's face.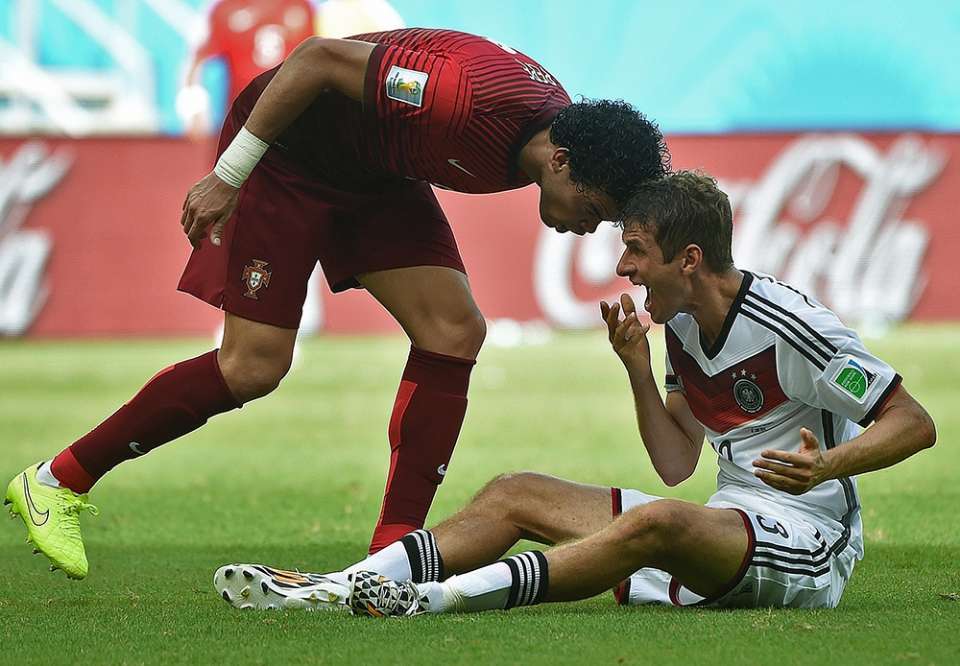 Mueller covered his face and fell to the pitch, forcing the referee to blow the whistle and show Pepe a red card. But Pepe calmly faced the Mueller victim, then leaned in with a gentle, strange shake of his head. He was still a bit surprised when the referee asked him to leave the field.
Losing Pepe, Portugal easily let Mueller complete a hat-trick in the second half, and then failed to progress through the group stage.
Legendary Enemy Messi
Few players will make Pepe angry more than Messi. The Argentinian legend has dribbled past Pepe more times than he remembers, not to mention the 26 goals Messi scored against Real during Pepe's time as a centre-back.
During a match, Pepe is said to have told natural enemy Messi: "Don't be foolish to confront me or you will receive serious consequences". In response, Messi calmly: "What are the consequences, I always score goals against your team."
In January 2012, Pepe had a nasty foul that somehow went unpunished. Messi was having a smooth run from the middle of the field when Jose Callejon intercepted. While Messi was lying on the field, Pepe quickly stepped on 3 fingers of the opponent.
He was not punished, not even ashamed, when he declared his actions "unfortunate".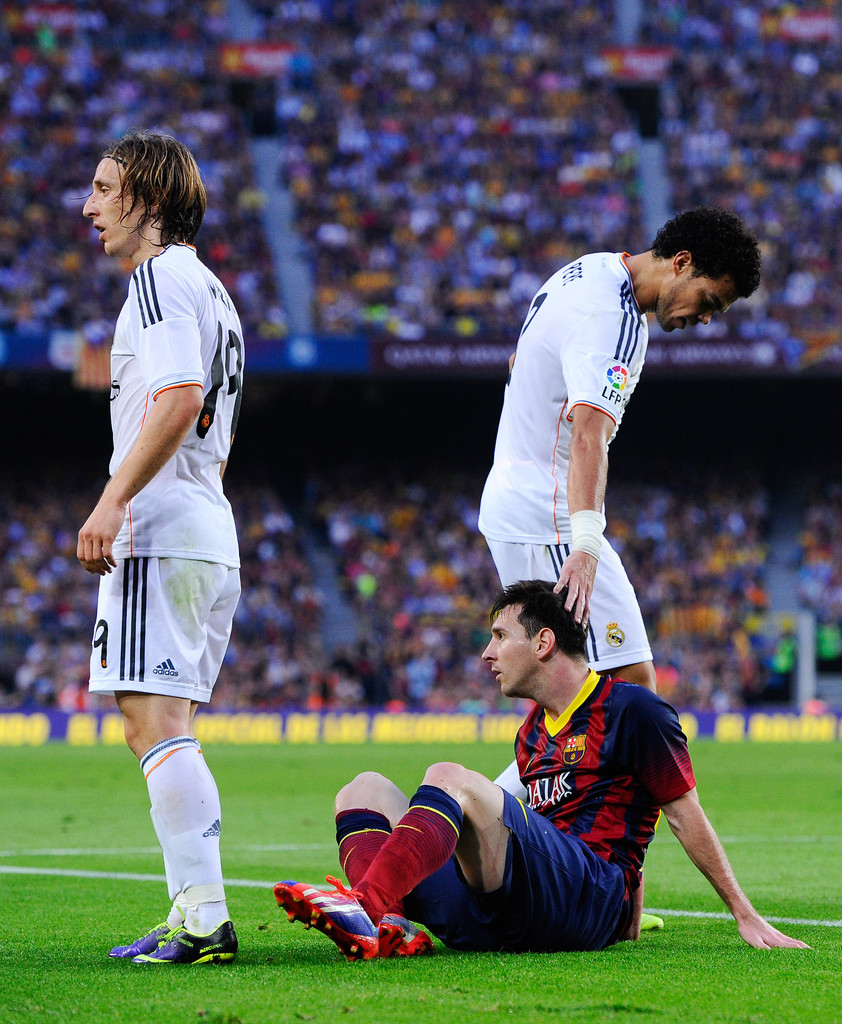 Chi Pheo of the football village
Pepe is very good at falling to the ground in pain, turning to scream at his attacker, Moroccan player Medhi Benatia, before getting up to alert the referee. Despite those bluffs, the referee blew his whistle. A performance worthy of an Oscar.
It was possibly Pepe's best work at the 2018 World Cup and the former defenders were furious. Martin Keown raged: "He just got slapped on the shoulder and yelled. It's horrible. It's hard to see that as a male behavior. In my day, if I did that to Alan Shearer, he would laugh and walk away." Rio Ferdinand added: "Pepe must be ashamed to see himself behaving like that on TV. He should be ashamed to let his children see that."
During the 2014 Champions League final, Pepe was rolling around on the pitch when Felipe Luis approached to advise not to cheat. Luis bent down to touch Pepe's face, prompting the centre-back to once again embrace – while the Atletico Madrid player smiled and walked away in scorn.
During Real Madrid's match against Villarreal in March 2012, although Pepe avoided a red card for 90 minutes, he still fought in a different fashion. Sergio Ramos and Mesut Ozil were sent off with five minutes left after Marcos Senna equalized at the end of the game, and the defeat saw manager Jose Mourinho sacked.
Pepe couldn't contain his frustration after the game so exploded when everyone tunneled. This central defender shouted at the referee: "Robbers, bastards!". Pepe was given a two-match ban for this incident.