JACK GREALISH made a fan's day by stopping for a chat and a picture after last night's England game.
The Manchester City star didn't get on from the bench as the Three Lions laboured to a 2-0 win over Malta at Wembley.
Jack Grealish chatted to student Tom Horn after England's win over Malta
Fan favourite Grealish was left on the bench against Malta
After the game, Grealish walked back through the mixed zone in his England tracksuit.
Waiting for him in a wheelchair was aspiring sports journalist Tom Horn.
Grealish took the time to stop and interact with the university student who was attempting to interview players.
Even though Tom supports Manchester United, he expressed his respect for Grealish and the City squad.
He then revealed that his sister is also a big fan of the 28-year-old, in a "different way".
Grealish grinned while speaking of the most recent Manchester derby, which saw City win 3-0 at Old Trafford.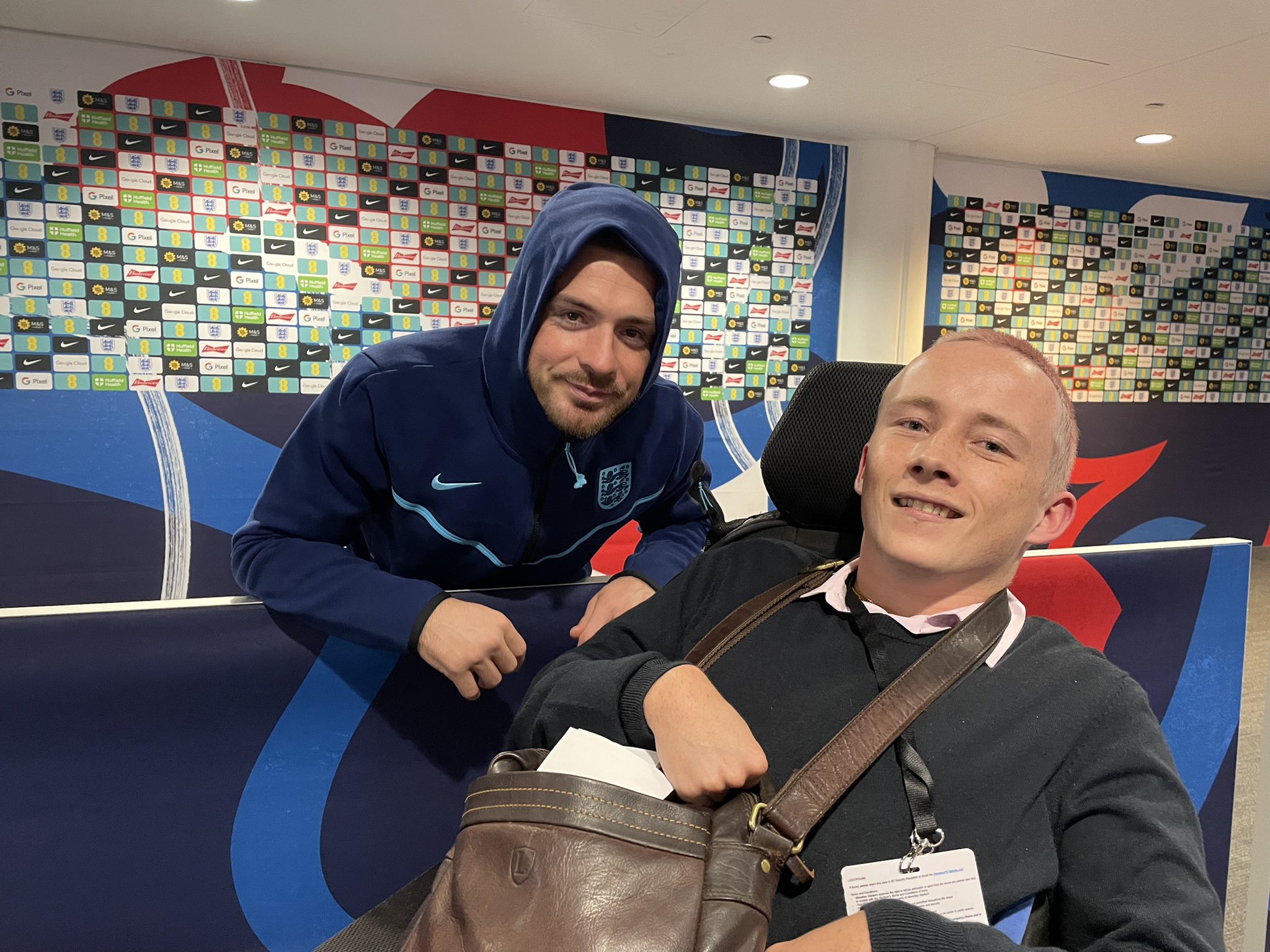 Following a touching conversation, the two posed for a picture.
Tom later thanked Grealish on social media, gushing that it was "great to talk to him".
He also admitted his intention to interview him again "when I'm a fully fledged journalist myself".
On this prospect, Grealish joked that he'd "definitely" do an interview on one condition, cheekily saying: "As long you don't say bad stuff about me".
Fans loved seeing the interaction, which was posted on social media.
One tweeted: "Jack Grealish is a good one. See many videos of him doing this. Class act. Well done to his parents."
While a second gushed: "Comes across as such a top bloke. Glad to have him representing our country."
A third claimed: "Jack Grealish is an absolute role model."
And another added: "I swear no one takes time out for fans as much as Grealish."
.
The England fans' favourite has been in and out of the City team this season.
But boss Pep Guardiola doesn't have a bad word to say about him off the pitch.
The Spaniard recently said of Grealish: "He's one of the most beloved guys in the locker room. We are really pleased with him in the last games and his mentality in training sessions.
"First year and last year especially was decisive. Every year he gets better. In terms of the community and how he takes care of the kids too.
"He always stops to write signatures and he has good connections out of the bubble professional people live.
"He's down to earth and I love working with him. He's so sensible and close to his family. We love him so much."
Grealish will be hoping to be back in international action on Monday night, when England take on North Macedonia.
Grealish will hope to be back in action on Monday night