COLE PALMER was sent flying by Erling Haaland as he tried to pull off a cheeky stunt against Manchester City.
The Chelsea hero equalised in the game with a late penalty but was not done winding up his old team in the thrilling Premier League 4-4 draw.
.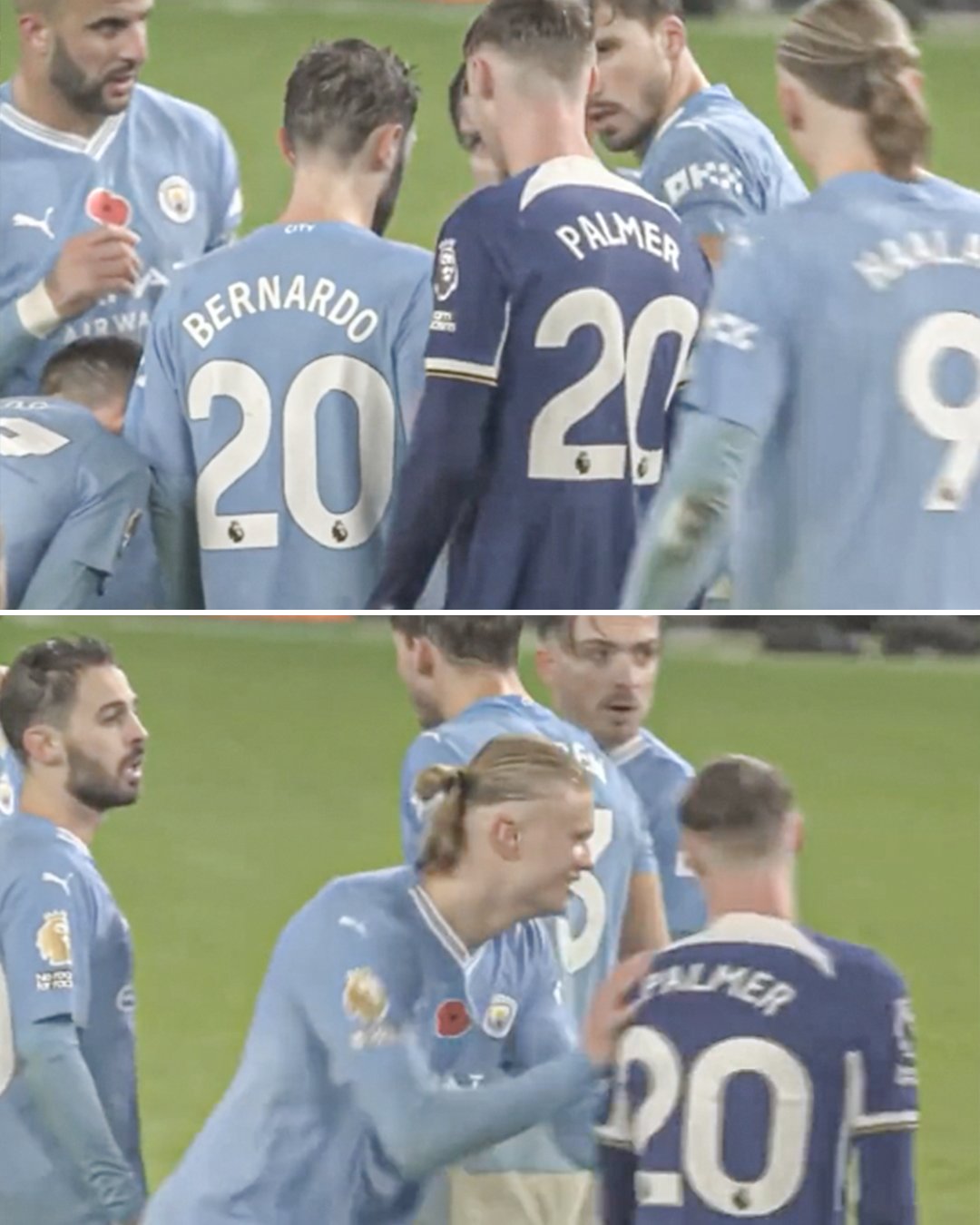 .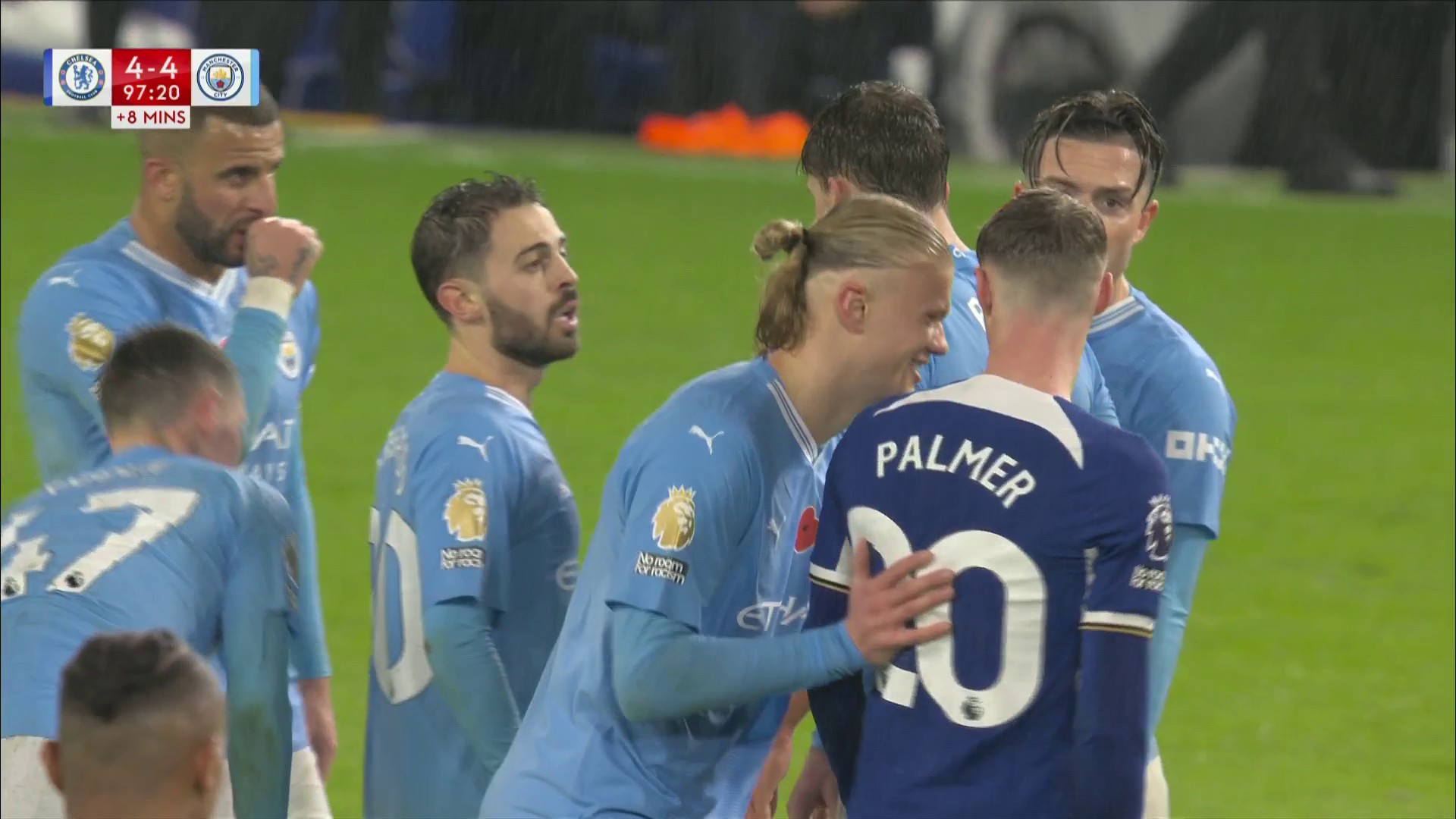 Erling Haaland shoved Cole Palmer away before a Manchester City free-kick
Man City had one last chance to win the game after being awarded a free-kick on the edge of the host's penalty area.
Haaland, along with Bernardo Silva, Kyle Walker and Jack Grealish, were discussing their plan for the set-piece when Palmer came over.
The former City star, 20, tried to walk into their meeting, however, Haaland was less than impressed.
The Norwegian was quick to shove Palmer away and keep his side's plan to themselves.
Palmer had already been booked earlier in the game for scuffing up the penalty spot after Marc Cucurella fouled Haaland in the box.
Fans loved the audacity from Palmer as they reacted on social media.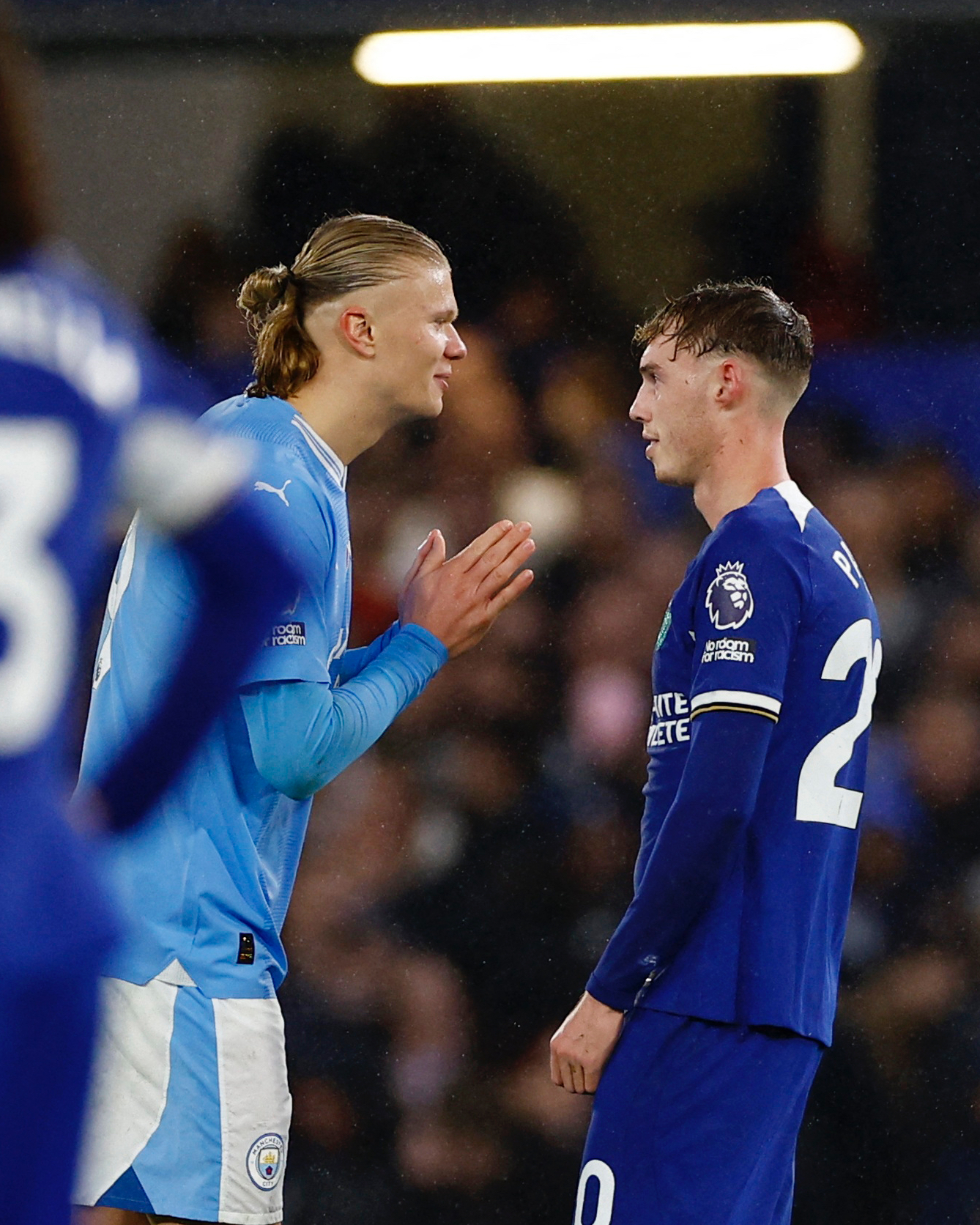 One commented: "Palmer is trying to listen in on the city players for that late free kick. S**t housery."
A second wrote: "Palmer wanted to eavesdrop on City's strategy so that City's free kick didn't score against Chelsea, but Haaland caught it hahaha."
A third posted: "Cole Palmer just then was trying to listen to the Man City huddle and Erling Haaland shoved him away hahaha."
A fourth said: "Need the cole-shrug.gif stat."
Another joked: "In the whole game I enjoyed Palmer and Haaland's chemistry."
The game was one of the best in the Premier League season so far.
Manchester City took the lead through Haaland before Thiago Silva equalised for Chelsea.
The hosts subsequently took the lead thanks to Raheem Sterling, but Manuel Akanji pulled one back for City.
After that, Haaland scored his second goal of the match, but Nicolas Jackson answered for the Blues.
Before Palmer's penalty kick in the 95th minute, Rodri appeared to have won the match for the visitors.
Mauricio Pochettino was left angry as the full time siren rang before a Chelsea onslaught could conclude, despite the late equalizer.
He did express regret for his conduct to the media following the incident.