Who is Ronaldinho's son, Joao Mendes?
Joao Mendes went on a trial with Barca's youth team in January. At first his son Ronaldinho did not impress Barca scouts but then Joao Mendes convinced them and was signed.
Barca's youth training center (La Masia) is the cradle that provides Barca's first team with many young talents and many of these players later become symbols of the Catalan club.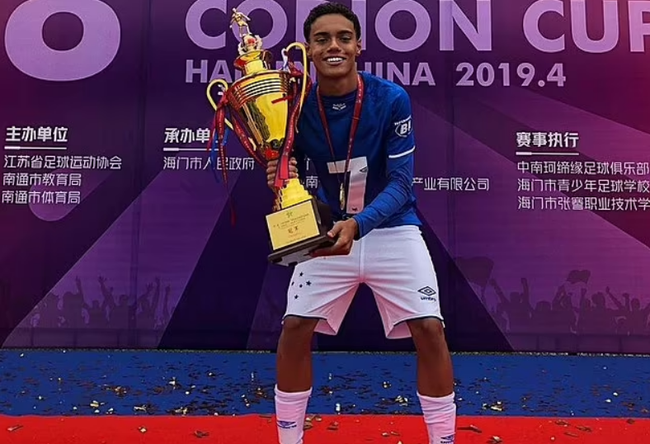 All of Lionel Messi, Xavi, Andres Iniesta, Cesc Fabregas or Gerard Pique all grew up in the Barca youth team before going to the first team and becoming legends at the Camp Nou.
Mendes had only played in Brazil for Flamengo's youth team before joining Vasco de Gama and then Boavista-RJ. Mendes started playing football at the age of 4. He told his mother to sign him up for a soccer school.
In 2019 Mendes signed a 6-year contract with Cruzeiro after a successful trial. During the probationary period, Mendes impressed the scouts with his quick and sensitive feet. At that time Mendes concealed his identity and Cruzeiro's scouts did not know that he was Ronaldinho's son.
After 3 years playing for the Cruzeiro youth team, Mendes decided to leave in search of new opportunities. After nearly a year of searching, the opportunity came to Mendes when he was approved by Barca to practice in the youth team. Mendes also played in the same position as his father. Ronaldinho's son can play in any position in the attack but mainly plays as a 2nd striker and can also play as an attacking midfielder.
Mendes has a good height, can play with two feet, but prefers to use his left foot in the bottom third of the opponent's court. Although he has joined the Barca youth team, it is not easy for Mendes to achieve the same success as his father Ronaldinho did at Camp Nou. The struggle to be recruited into Barca's youth team is a sign that Ronaldinho's son is not easily able to play for the first team of this club.
Ronaldinho had a very successful career at Barca where he played between 203-2008. With Barca, Ronaldinho won 2 La Liga titles and won the C1 Cup. In total, he played 207 matches, scored 94 goals and provided 70 assists in 5 years with Barca. Ronaldinho also won the 2005 Ballon d'Or and won the 2002 World Cup with Brazil.
Ronaldinho is currently Barca's image ambassador and with his son Joao Mendes joining the club's youth team, the connection between the Brazilian legend and Barca is even closer.