Those who know Kevin De Bruyne from before will not be surprised with the fight with seniors David Silva or Fernandinho, they just laugh and say: That kid has a temper again.
"The kid kept grabbing the pole and wouldn't let go, he looked very angry. The three of us tried to pull him out but couldn't," – Frank De Leyn, Kevin De Bruyne's youth coach at Genk remembers his stubbornness. of his former student, that was the moment De Bruyne was reprimanded for not helping with the cleaning of the pitch after training sessions: "At that time, we were training in Spain. I sat down by the guy. he was going to stay at the training ground all night, it took me a long time to convince him to leave, we walked back to the hotel hand in hand, he was as stubborn as a donkey but I think that was what made him de Bruyne of today".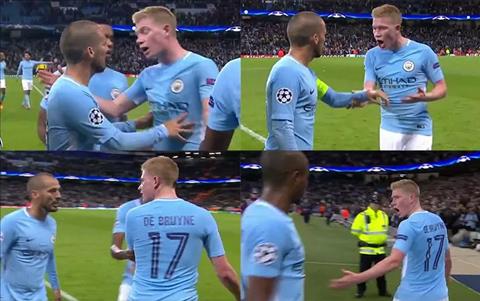 De Bruyne in an impulsive moment of a duel with David Silva and Fernandinho.
"Once the referee blows the whistle, you see another Kevin" – De Bruyne confessed.
"Let me speak. Let me speak. LET ME SAY!" – De Bruyne shouted at David Silva, trying to overcome the intervention of his team-mate when the referee blew a penalty in the win against Napoli in the middle of last week. Some people are concerned that Manchester City will be in shock because of the Belgian midfielder's "star disease". But for those who are used to that momentary explosion, they understand that De Bruyne will quickly regain his composure and correct his mistakes after being impulsive. 
Friends call De Bruyne a "dryer" because of his dry reply on WhatsApp, on the pitch too. Most of the time, Kevin is known as the humble, calm and confident guy. But when he didn't agree on something, De Bruyne would let everyone know in a way like a volcano erupting.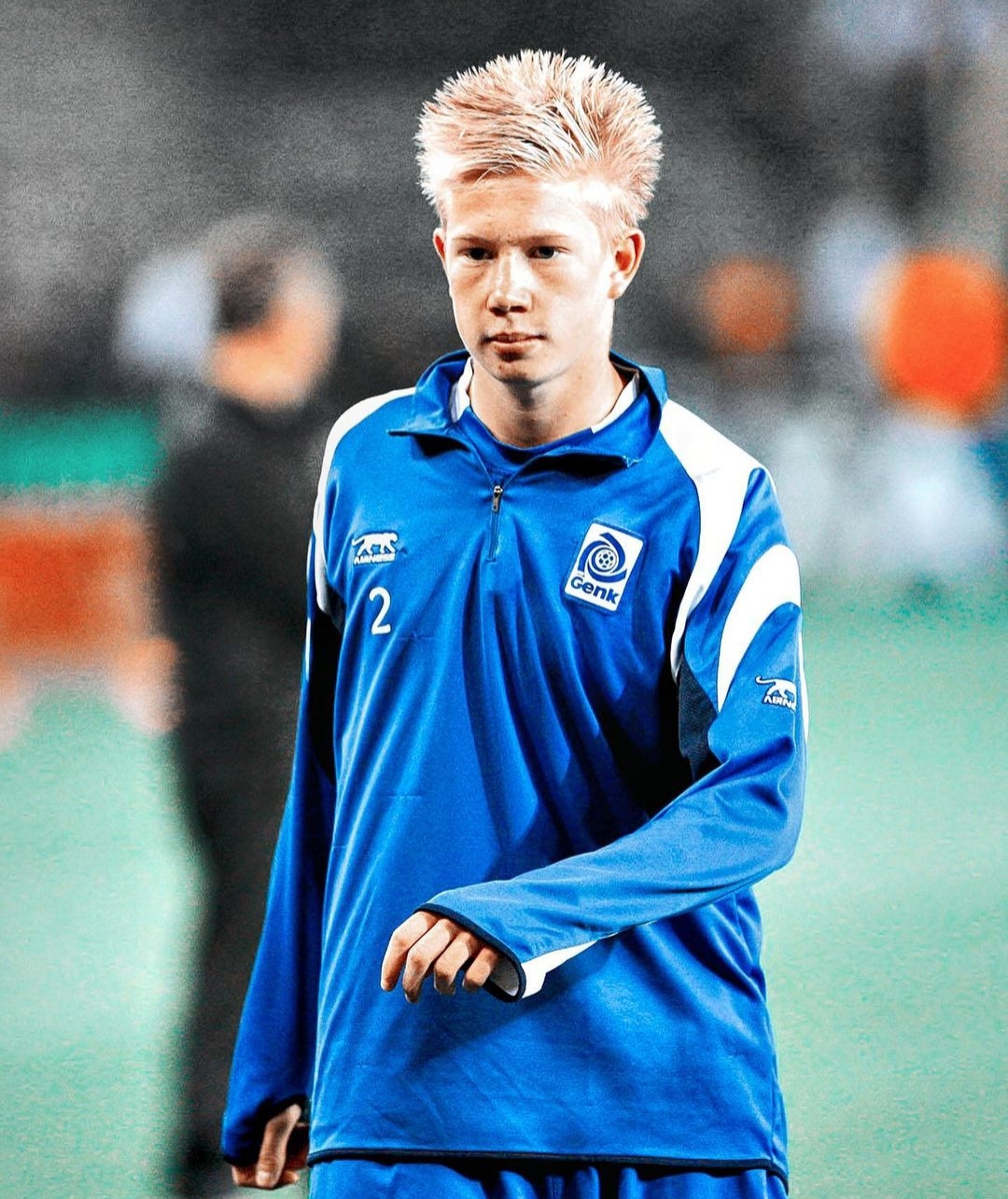 During his career, the Belgian midfielder made many waves in the media because of his straight behavior like a horse's intestines when he was dissatisfied with something. When he was at Genk, just 19 years old, De Bruyne bluntly criticized Elyaniv Barda – the star of the team – for his lazy attitude in training sessions. In February 2012, the young man continued to make the Belgian media have more stories to tell by openly criticizing the competitive spirit of his teammates at Genk in an interview: "I feel ashamed on behalf of the team. Those who have no desire to fight, go away."
Leaving Belgium to go to Germany to play for Wolfsburg, everything has not changed. De Bruyne shocked many people when he yelled at the boy who picked up the ball: "Give me quick, ***". Calming down, De Bruyne publicly apologized and sent the victim a signed shirt. Most of the times the reactions were not malicious, it was just that De Bruyne couldn't control himself with his unchanging obstinacy.
De Leyn's comment is not wrong, stubbornness or from another perspective, consistency is the secret to the success of the Man City midfielder. The 11-year-old De Bruyne said loudly: "Mom! I will study Latin for two years, then go to Topsport. When I am 18, I will focus entirely on football."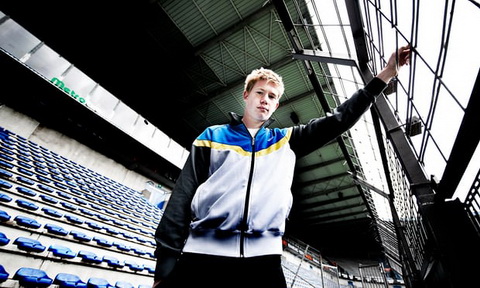 The stubbornness or steadfastness from an early age is the secret of De Bruyne's success.
Like many other famous players, De Bruyne's childhood is of course associated with the ball. The boy's bedroom in Drongen is full of things that belong to Liverpool. Grandpa is the man behind the boy's fondness for Liverpool. Liverpool's signature bed sheets, Liverpool crests and worn Michael Owen jerseys are just part of Kevin's proud collection. 
Of course, the boy plays football whenever and wherever he can. The garden is where De Bruyne and his friends play football, the miserable flowers and bushes are constantly being destroyed by shots, causing the group to be banned from playing leather ball by adults, only allowed to use plastic balls. . In order to get a "genuine" soccer ball, t he whole bunch of people who make up their own rules will not "destroy the landscape" by kicking the ball with their non-dominant foot. De Bruyne's weak left foot as a child thus became an advantage: He gradually handled the ball with his non-dominant left foot as much as he did it with his dominant foot, which was on the right.
Since the age of 8, De Bruyne has earned a reputation for being meticulous by telling VV Drongen's coach straight to the face that he moved to Gent because "their training sessions are much better". At the age of 14, he switched to Genk again because he liked the style of this team more. In the second year, De Bruyne had to return to live with his family when the club did not want to "accept" the boy because of his personality. Heartbreak, of course, but that only ignites greater determination.
"People say I can't do anything because of my lousy personality. I told myself at that time, let's see in the end, who has the right to speak up" – Kevin De Bruyne. This incident became the motivation for the midfielder to be more consistent on the road to success. The "bad" Kevin became the star of the Under-21 team, making his Genk first team debut at the age of 17. His former agent, Hein Vanhaezebrouck, called him the "Cruyff of modern times". Chelsea quickly brought De Bruyne to Stamford Bridge to fill the shadow of Frank Lampard.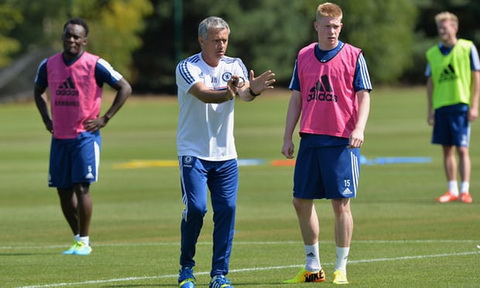 Jose Mourinho did not take full advantage of De Bruyne's ability.
18 months later, De Bruyne began to think more about the future. The young midfielder made a strong impression when he wore Werder Bremen on loan from Chelsea. At that time, Jurgen Klopp at all costs sought to get De Bruyne to replace Mario Goetze, the 22-year-old player's phone was constantly heating up by calls and messages from Dortmund. They reached personal terms, even Chelsea seemed to have settled down but Jose Mourinho's phone call broke it all. 
"You're a good player, so you're not going anywhere," Jose Mourinho insisted.
"I am not happy with the way he plays, the way he trains" – The same "special person" only shortly after publicly criticized De Bruyne after the victory over Swindon in the League Cup. Tired of waiting for the opportunity but only receiving complaints, the Belgian midfielder decided to take his own destiny.
Kevin De Bruyne recalls a meeting with Jose Mourinho and the Chelsea board: "He showed us the numbers related to an attacking midfielder such as assists, goals, pass percentage, decisive ball. , in person. He wanted to show that I wasn't as good as the others. I replied 'sorry, that's absurd. I've played fewer games so how can it be compared?' It's not fair. Mourinho told me about being competitive, to work hard because there's a chance for everyone. He clearly didn't want me to leave, even on loan. good player' – he said, and I said frankly that I feel I have never been treated fairly."
That talk was the premise for the Chelsea board to think about a transfer. Wolfsburg then boldly spent up to 22 million euros on De Bruyne, an investment that has never been considered wasted.
At the end of September, Antonio Conte complained about Chelsea letting De Bruyne leave in the past after witnessing the moment the Belgian midfielder hit his old team right at Stamford Bridge. Pep Guardiola clearly knows how to exploit De Bruyne's strengths more than Jose Mourinho. The 26-year-old midfielder himself admitted in a recent interview: "Tactically, he is the best coach I have worked with. We have a similarity in football. I understand his ideas. He's very fast, that's one of the reasons why I play well."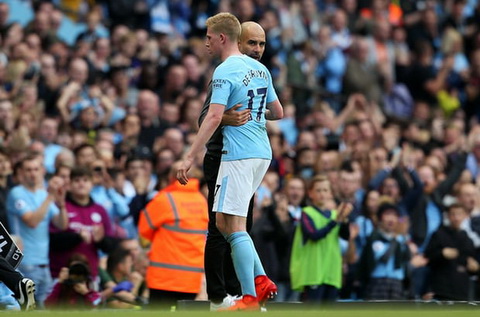 Kevin De Bruyne is playing well under the guidance of coach Pep Guardiola.
In the first season, Pep Guardiola constantly experimented from tactics to people. De Bruyne is sometimes arranged to play on the wing, sometimes playing the role of a virtual 9 but that brings some positive features. "Playing in different positions helps me understand more about the way other players play: what they have in mind, where they appear and how they will move," De Bruyne admitted. Last season, the Belgian midfielder had 18 assists in the Premier League, more than anyone else. 
Pep Guardiola always advocates continuous ball rotation and especially to think before making a decision to handle. Coincidentally, Kevin De Bruyne can be impulsive when arguing but stays sober in most cases. De Bruyne always thinks at least twice before buying something expensive, once leaving a bar when he realized he had to pay $26 for a bottle of Coca Cola