Striker Lionel Messi was named Athlete of the Year at the Laureus Awards in Paris on Monday. Laureus World Sports Awards, known as the "Oscar of world sports", is an annual award honoring athletes and sports teams with the best achievements of the year.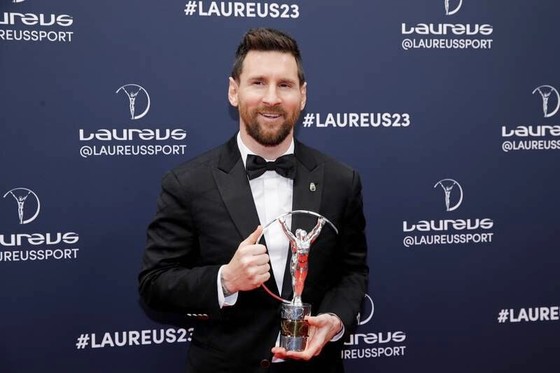 Lionel Messi became the first athlete to win individual and team Laureus awards in the same year.
Winning the World Cup 2022 continues to bring great honors to the individuals and groups that made it at the Laureus Awards ceremony. Captain Messi was named Athlete of the Year, while Argentina won the Team of the Year award. Messi also became the first athlete to win both individual and team Laureus awards in the same year.
This is the second time the 35-year-old soccer superstar has received the honor – after first sharing it with Formula 1 driver Lewis Hamilton in 2020. "I'm looking at the names of the legends who have won the award. awarded this honor before me: Schumacher, Woods, Nadal, Federer, Bolt, Hamilton, Djokovic… and this is a unique honor," Messi shared.
Elsewhere, sprint champion Shelly-Ann Fraser-Pryce clinched Men's Athlete of the Year after a stellar 2022, including winning 100m gold at the World Athletics Championships. . Tennis player Carlos Alcaraz, who won the US Open 2022 and rose to number one in the ATP rankings, was named Breakthrough Athlete of the Year.
Midfielder Christian Eriksen, who has recovered from a cardiac arrest at Euro 2022 in 2021 but could return to playing in the Premier League, first with Brentford and then Man.United, before playing in the World Cup with him. Denmark team, received the Return of the Year award. Disabled Person of the Year Award goes to Catherine Debrunner. Action of the year award went to Eileen Gu.
The Laureus World Sports Awards have been around since 2000. The nominees for the award are selected by the global media, while the 71 members of the Laureus World Sports Academy will select those. wins in categories. Roger Federer holds the record of 5 times being honored and is the only person to have 4 years in a row. Novak Djokovic has been honored 4 times, followed by Usain Bolt (3 times), and Tiger Woods, Michael Schumacher, Rafael Nadal, Messi has 2 times.