Recently, the image of Pax Thien walking with his pet dog was posted on social networks . According to observations, Angelina Jolie 's adopted son of Vietnamese origin wears a T-shirt and jeans. Pax also wears stylish black glasses and athletic sneakers . Looking at the Jolie's son striding, he looks like a romantic guy.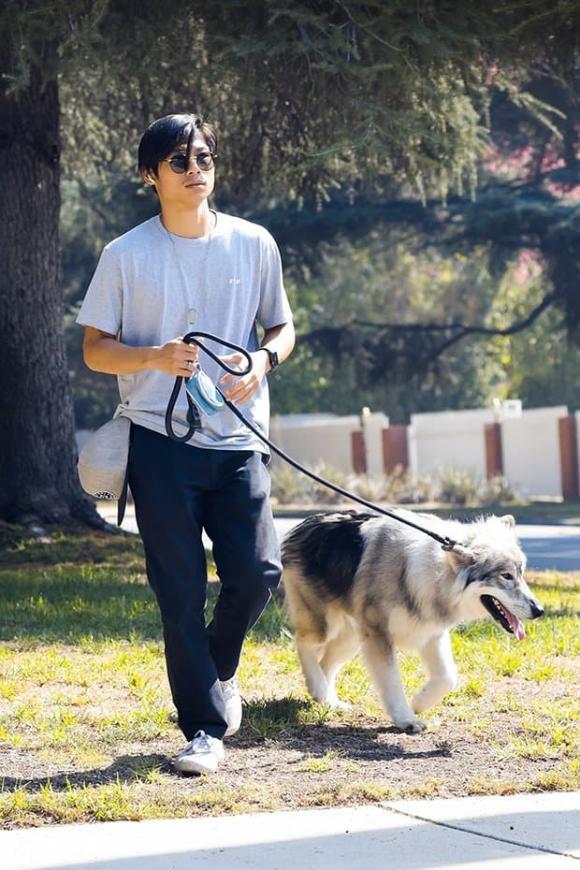 In addition to compliments on appearance and maturity, Pax Thien was also suddenly asked by some netizens about studying as well as making money. They expressed: "I don't know if this son of Angelina has learned anything or is just living off his mother?", "What does Pax do for a living?", "Maddox and Zahara are both studying at university, and Pax Thien is working. What's up?"…
In fact, Pax Thien graduated from high school last August. In Angelina Jolie's big movie promotions after that, he did not appear. A source said that Pax was absent from the above events because of preparing for life after graduation.
Recently, Angelina's adopted son reappeared as an assistant on the set. The guy was hired by his mother, and Pax's job was to communicate with other parts of the crew on his mother's behalf. In June, Pax Thien was caught wearing a walkie-talkie, helping her mother carry things and exchange work with the crew. Jolie herself is very pleased with her son's enthusiasm and inquisitiveness. She feels proud because her children are independent and individual.
In 2007, Pax Thien became the legal adopted child of the famous Hollywood star couple – Angelina Jolie and Brad Pitt . Since then, the Vietnamese-born boy has been noticed by the media, his life has completely changed.
Pax Thien's birth name is Pham Quang Sang, born in 2003. He was raised at Tam Binh orphanage fostering center (HCMC).
According to the Daily Mail, during a trip to Vietnam in 2006, Angelina Jolie noticed the boy Quang Sang. When applying for adoption, the actress changed his name to Pax Thien Jolie, which means "peaceful sky".
Not long after, the first photo of the Vietnamese-born son when he arrived in the US was sold exclusively to People for $2.7 million.
Having a new family, Pax Thien began to learn English to communicate. He quickly integrated with the sisters in the family, especially the oldest brother Maddox – who was adopted by Angelina Jolie in Cambodia.
In a 2013 interview, actress Maleficent revealed that Pax Thien is a reclusive person who does not like being chased by reporters.
He lives emotionally, loves and protects children. When he was a child, the Vietnamese-born boy was praised for always walking behind, quietly paying attention to family members whenever he went out.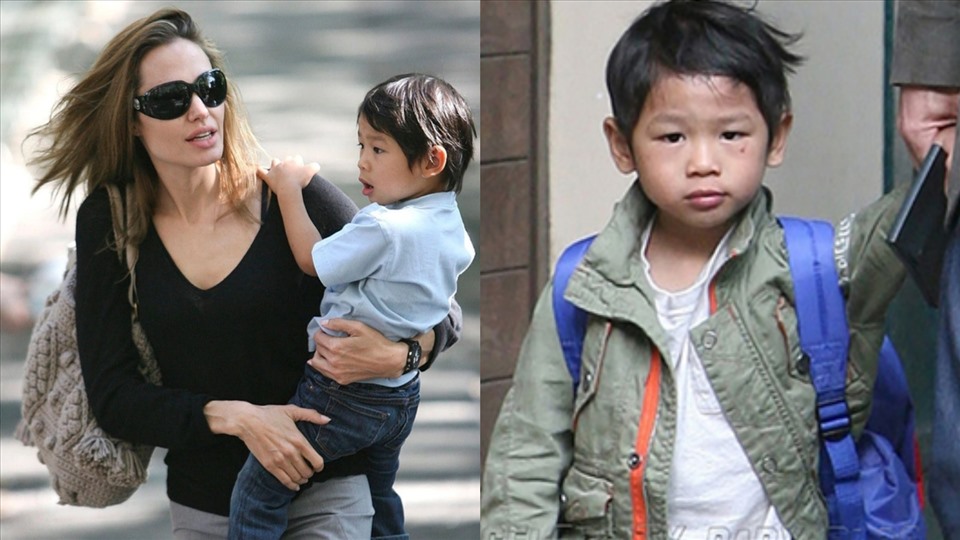 Sharing with Vogue, Angelina Jolie admitted that she did not initially intend to adopt Pax Thien because Maddox was Cambodian. But after many years, the female star feels grateful to have a son, Pax Thien.
"Now, Pax Thien has become a source of strength in our lives. I feel very lucky to be the mother of Maddox, Pax Thien, Zahara. Every day, I feel grateful for that." – Angelina Jolie shared.
As a child, Pax Thien lived a closed life, uncomfortable when disturbed by paparazzi. He usually dresses very simply, wearing a hat to cover his face to avoid the camera.
According to the Daily Mail, at the graduation ceremony in 2021, Pax Thien also did not attend the ceremony because he did not want to be noticed.
Despite her introverted and reserved personality, Pax Thien has completely changed since Angelina Jolie and Brad Pitt divorced. He appeared with his mother more, sometimes carrying things, opening the door and leading her across the street.
When the eldest Maddox went to study abroad in Korea (2018), the boy born in 2003 became the breadwinner in the family, serving as a solid support for his mother and younger sisters.
Brad Pitt left home, Maddox went to school far away, Pax Thien became the only man in the family. The boy proves more and more mature and strong every time he appears.
According to People, Pax Thien has a great passion for photography and filming. He once went with his mother to Cambodia during the filming of First They Killed My Father. Last June, the Jolie-Pitt family also came to support their mother in the filming of the movie Without Blood in Rome, Italy.