From a muscular wrestler, Dwayne "The Rock" Johnson has become the number one star in Hollywood. To this day, people are still amazed at his success.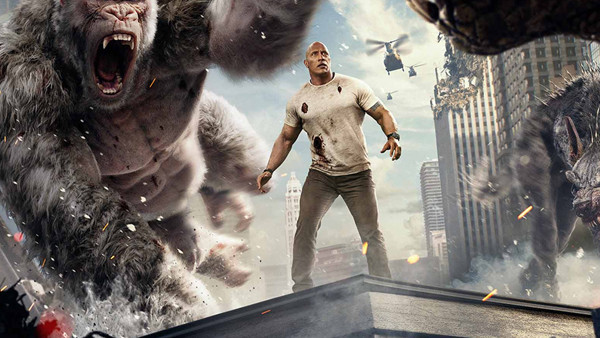 Dwayne "The Rock" Johnson is a giant. He is 1.96 m tall, weighs 118 kg, muscular body, no excess fat. According to the Guardian newspaper , at the age of 45 Johnson still gets up at 5am every morning, exercises at the gym for at least 2 hours. It was the rigorous training regimen he inherited from his father Rocky Johnson. He is also a professional wrestler, and Johnson took the nickname "The Rock" from his name.
More than just his size, Johnson is a Hollywood giant. He is currently the highest paid actor in the world. With the action movie Red Notice due out in 2020, Johnson received up to $ 22 million in salary, plus a percentage of the revenue ( Red Notice sold $ 25 million in ticket sales, Johnson pocketed an additional $ 1 million.)
In 2015 alone, Johnson's films grossed nearly $1.5 billion . In 2017, Jumanji: Welcome to the Jungle  earned $950 million and  Fast 8  hit theaters around the world with $1.236 billion . In the movie industry that always needs big stars, Johnson is a king.
King in Hollywood
With the blockbuster Rampage released on April 13, Johnson entered the most brilliant period in his career. Now he's confident enough to talk about his impoverished past, how his mother nearly killed herself after the family's apartment was foreclosed on, sending him into a deep depression.
But how did Johnson get to such heights of fame? How can a football player who suffered a serious injury, had to give up his dream, study criminology and physiology and become a wrestler, can make such a big mark in the world? Hollywood, which has crushed countless dreams?
There are even many people who question whether Johnson has ever acted in a really good movie? It is difficult to single out his iconic role, something Hollywood action heroes all possess.
Arnold Schwarzenegger has The Terminator , Sylvester Stallone shines with Rambo and Rocky , Bruce Willis became a star thanks to Die Hard and Tom Cruise takes pride in Mission: Impossible . Johnson is different, he is not a pure action star.
Like Arnold Schwarzenegger with Conan the Barbarian , Johnson started his film career thanks to his muscular physique, in the mythical genre. That is the role of the Scorpion King in The Mummy Returns (supporting role) and The Scorpion King (main role). After that, he acted in a few B-rated action movies like The Rundown and Doom .
Johnson even tried his hand at the art film Southland Tales (2007). His career only really took off when he participated in part 5 of the Fast & Furious racing series . Thanks to the role of special agent Luke Hobbs, Johnson became a shining star in the Hollywood sky.
But Johnson climbed to the top of Hollywood, according to many film experts, thanks to the fact that he did not follow the action movie line. That muscular guy turned out to have enough lightness to get into family movies like Race to Witch Mountain , Tooth Fairy and Moana .
And to the surprise of many, Johnson also showed humor in comedies like Central Intelligence and Jumanji: Welcome to the Jungle .
Will run for president?
On screen, Johnson has always been a hero or a cute guy. But when he was a football star at the University of Miami, he had a reputation for being short-tempered, ready to fight.
During his career as a wrestler in the 1990s, Johnson always presented the image of an obnoxious stubborn man, ready to lash out at his opponent. And even in recent times, in Hollywood, people still occasionally see a bit of darkness in Johnson's halo.
"Vin and I had a few conversations, including a face-to-face encounter in my trailer," Johnson coldly told Rolling Stone about his fight with co-star Vin Diesel while they were filming Fast 8 .
At the present time, Johnson is the king without throne in Hollywood, even surpassing Robert Downey Jr., the representative face of the Marvel Cinematic Universe (MCU). Can he go any further?
In front of Johnson will be a series of blockbusters, after Rampage will be Skyscraper . The superhero movie Black Adam is likely to shoot in 2019, and the Fast & Furious  spinoff , starring Johnson and Jason Statham, has also found a director and will be released on June 26, 2019.
Not only impressing with increasingly mature roles, Johnson also has bigger plans. He once talked about his dream of winning an Oscar one day. He also joked that he would run for president of the United States. Is that really a joke? "It could be 2024 or 2028," Johnson hinted.
Given what Johnson has done in his career, perhaps it wouldn't be surprising if one day he entered politics and made his mark.