The financial perspectives worth learning of the two most famous football players today.
The 2022 World Cup has gradually come to an end, the French team and the Argentina team will face off in the final on December 18, the two stars Lionel Messi and Kylian Mbappé will also become rivals. 
In the World Cup arena, they are rivals, however, Lionel Messi and Kylian Mbappé are both playing for Paris Saint-Germain club. Besides, these two players also have something in common in the financial story.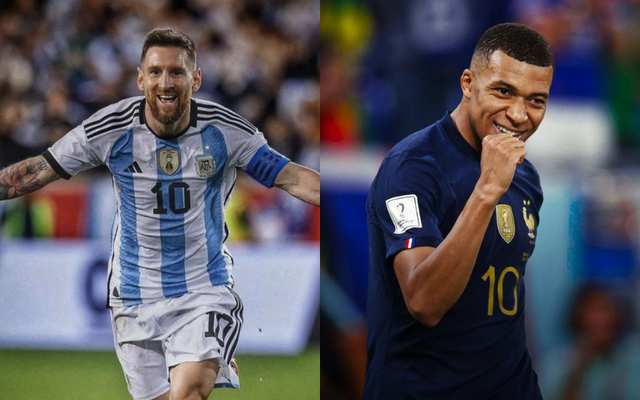 Huge source of income from advertising contracts
According to Forbes reported in October 2022, 35-year-old Lionel Messi is expected to earn $120 million this season ($55 million off the pitch). Meanwhile, this figure with Kylian Mbappé, direct salary from football is 110 million dollars. 
Messi's off-field income is about $55 million in 2022. This amount makes him the third player in the list of athletes with the largest off-field earnings in the world, just behind the pants icon. tennis player Roger Federer and NBA superstar LeBron James. According to Gold.com, Messi's sponsorship contracts are too numerous to list them all. However, perhaps one of the biggest advertising contracts belongs to the Adidas (Messi) shoe company off the pitch. Exact terms were not disclosed, but reports in Spain suggest the contract will last at least until the end of his playing career. Messi is also part of featured campaigns with Pepsi, Gillette and Turkish Airlines. Recently, Messi has expanded his interests into the realm of lifestyle and fashion with the famous clothing store The Messi Store.
With Kylian Mbappé, in addition to a super salary of 1.5 million euros/week (more than 37 billion VND) along with a bonus of 100 million euros/year (2.5 trillion), this player is now also a familiar face. of many brands. The male player currently has an advertising contract with a sports fashion brand like Nike, earning about 5 million dollars/year (nearly 118 billion dong). In addition, Kylian Mbappé is the face of the famous FIFA game and an ambassador for Hublot – a luxury watch company from Switzerland – with a contract that can be up to $ 1.1 million / year (nearly). 26 billion dong). 
Regularly do charity
Lionel Messi is an active contributor to social activities. As a young soccer star, he founded the "Lionel Messi Foundation" in partnership with Unicef ​​to help vulnerable children around the world. According to Unicef, in 2017, Messi donated his own money to help fund the construction of classrooms for 1,600 children orphaned by the war in Syria, while in 2019, the fund donated 218 thousand USD (to provide providing food and water to people in Kenya. 
Like Lionel Messi, Kylian Mbappé is a philanthropist. According to French newspaper L'Equipe, the player has decided to donate his proceeds from the 2018 World Cup to the Premiers de Cordée charity, which provides free sports instruction to children with disabilities. According to Sports Illustrated, the French player has donated about $ 449,606, more than VND 10.5 billion (7 cup matches plus championship bonus). 
The French player also founded the fund "Inspired by KM", which helps 98 children from Paris. In addition, he also donates to the Abbe Pierre Foundation to help fund COVID-19 relief efforts. 
Simple lifestyle when young
Born in 1998, Kylian Mbappé has a rather unique spending perspective. His mother – Fayza Lamari – shared: "Kylian never carries a credit card or cash with him. Sometimes I say to my child: 'Don't you want 200 euros (over 5 million) in your pocket?' Then he'll say 'Never mind. I just go out and play football'. I always advise my children, 'Enjoy what you can in this world, but always remember it's all not yours'. It doesn't matter if the 10 of us go to Grandma's apartment and eat chicken."
Besides, in an interview with Paris Match, Kylian Mbappé shared that he always values ​​experience over money. Relationships between people are much more important than money. In the end, experiencing life is the most meaningful thing, much more meaningful than making money. What Kylian Mbappé aspires to are new discoveries, travels, encounters with players, understanding different cultures,… "I have a 'quiet' relationship with money . : I know it's important, I'm happy to have it, but it's not what motivates me every second of the day."
With Lionel Messi, at the age of 26 (2013), he was one of the highest-paid players in the world, the first thing a male player did was buy gifts for his mother and relatives. Besides, male players often use donated supercars and rarely buy their own cars. At that time, the male player only drove a Maserati for about 240 thousand dollars (5.6 billion) to go to the training ground. Lionel Messi also often organizes parties at home with his family instead of gathering at luxury restaurants.